If you're ready for a fluffy cake that is light and delicious, then this Coconut Cake recipe is for you! It's a stress free cake that everyone will enjoy. Its homemade and the perfect recipe for a sensational cake!
You are in for a treat with this homemade cake! perfect for the holidays! You'll find the delicious flavor of coconut in every single bite of this dessert.
Use your love for coconut as the inspiration behind this sweet Coconut Cake recipe. It's a light, sweet, and fluffy cake full of flavor that you can easily prepare from scratch.
Coconut Cream Cake
If you would like to prepare a light and fluffy cake with the creamiest, coconut-flavored frosting prepared from scratch, try this easy Coconut Cake recipe. It's not hard to prepare this sweet baked treat from scratch with simple baking ingredients, such as flour, coconut milk, and baking powder. Once you've made this cake from scratch, you'll never want to go back to buying boxed cake mix again! It's simple, stress-free, and an excellent choice for many occasions.
Why You'll Love This Recipe for Coconut Cake
It's easy to make this delicious cake from scratch.
The Coconut Cake made from scratch tastes better than any boxed cake mix you can find in the stores. It's also better than store bought desserts because it's fresh and flavorful.
You can prepare this cake for lots of different occasions, including birthday parties and anniversaries.
The Best Coconut Cake Ingredients
Be sure to have all the ingredients needed to prepare this delicious layer cake from scratch, including:
All-Purpose Flour – Start with the flour as the batter for your cake.
Granulated Sugar – Give your batter a sweeter taste by combining the flour with sugar.
Butter – Let your butter sit out and soften before you've combined it with the other ingredients.
Canned Coconut Milk – Grab the unsweetened version of the canned coconut milk to add more coconut flavor to this recipe.
Vanilla Extract – Add a splash of vanilla to enhance the taste of your sweet cake.
You'll also need six egg whites, two large egg yolks, baking powder, salt, vegetable oil, and cream of tartar.
You're also going to need a few ingredients to prepare the sweet frosting, including softened cream cheese, coconut extract, powdered sugar, and shredded coconut.
FAQ
Can I use coconut water instead of coconut milk?
Canned coconut milk has a different texture than coconut water, so it's best to use canned coconut milk. You can use any brand that you prefer.
What does the frosting taste like?
The frosting of this cake has a sweet cream cheese taste to it that is out of this world. It also has a touch of coconut added to it, which gives this sweet baked cake even more flavor.
What type of cream cheese should I use?
It's best to use full-fat cream cheese for the frosting to ensure that it has the perfect taste and texture. You want to have a creamy frosting that you can spread with ease across the layers of your cake. You can select any brand you prefer, whether it's a brand name or a generic option.
Can I use toasted coconut in the homemade frosting?
Absolutely. If you enjoy the taste of toasted coconut more than traditional coconut, feel free to use it. Make sure it's shredded into pieces so that it's easier to work with when you're combining your frosting ingredients.
Can I add anything extra to this cake?
Yes, you can! If you're not sure what to add but feel like the cake needs something extra, chopped nuts and maraschino cherries are an excellent addition to this cake and pair well with the taste of the coconut.
Recipe Notes & Tips
Use a toothpick to check the center of your cakes at the 20-minute mark. If the toothpick doesn't come out dry, allow the cakes to continue cooking for an additional three minutes or so to ensure they're fully done by the time you take them out of the oven.
Let your cakes cool down before attempting to remove the tops from them using a serrated knife. If you don't have a serrated knife, you can use a chef's knife to get the job done.
Make sure you put your cake in the fridge to chill until you're ready to serve it. It tastes best when served fresh and cold.
If you're a coconut lover looking for a sweet, flavorful treat, try this delicious Coconut Cake recipe. It's a fun recipe to prepare that takes little to no effort. You can prepare this homemade cake from scratch and serve it for any occasion, making it the perfect treat for children and adults to enjoy.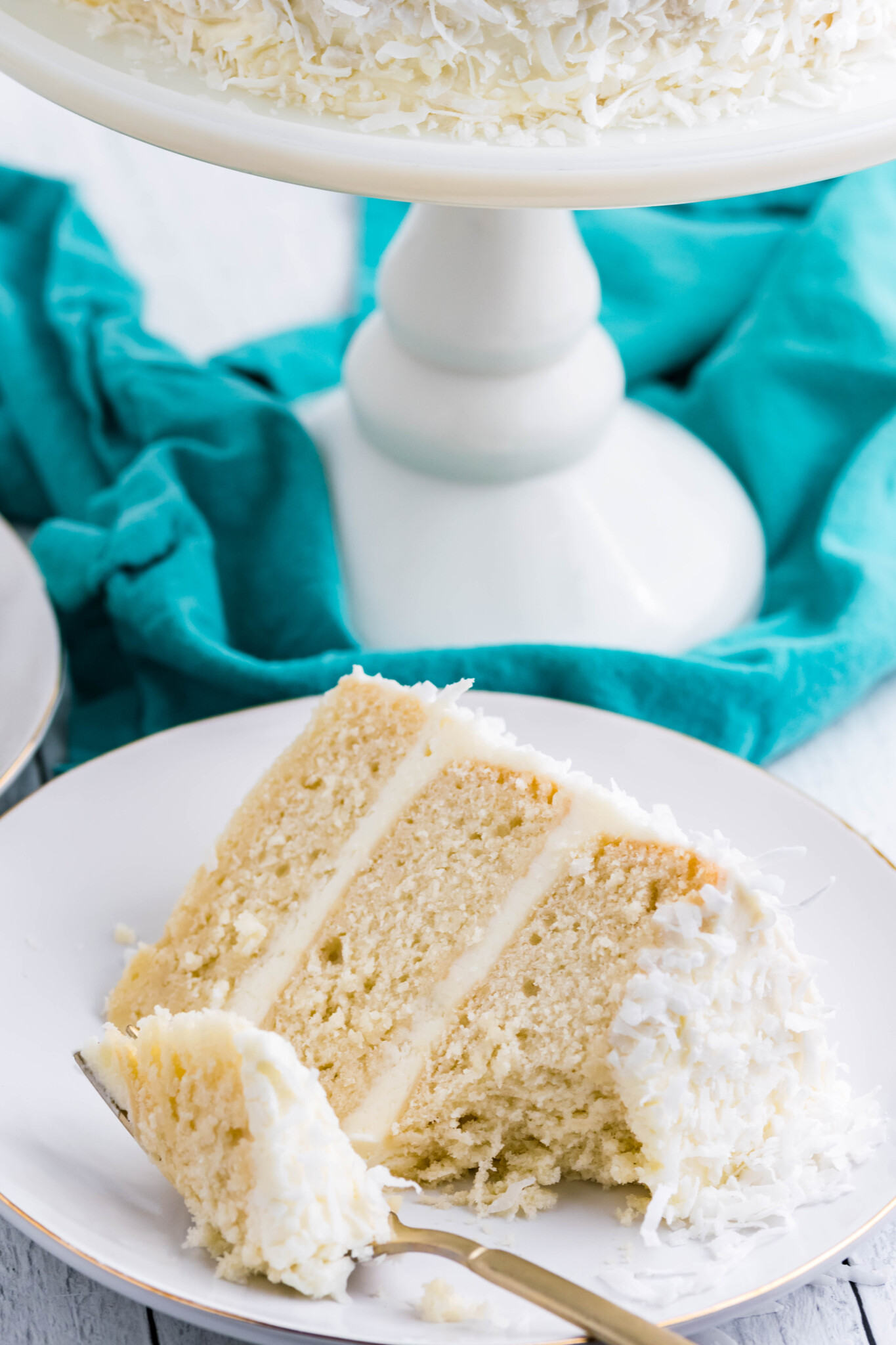 More Recipes You Will Love!
If you're ready for a fluffy cake that is light and delicious, then this Coconut Cake recipe is for you! It's a stress free cake that everyone will enjoy.
Ingredients
Cake Layers:
3 cups all-purpose flour
1 tablespoon baking powder
½ teaspoon salt
2 cups granulated sugar
¾ cup butter softened
¼ cup vegetable oil
1 1/3 cup canned coconut milk unsweetened
2 large egg yolks
1 teaspoon coconut extract
1 teaspoon vanilla extract
6 large egg whites
1/8 teaspoon cream of tarter
Frosting:
16 oz. cream cheese softened
1 cup butter softened
1 teaspoon coconut extract
7-8 cups powdered sugar
1 ½ cups shredded coconut sweetened
Instructions
Cake Layers:
Preheat your oven to 350 degrees and prepare three 8- inch cake pans by rubbing generously with shortening and sprinkle with flour and set aside.

In the bowl of a stand mixer equipped with a paddle attachment, cream the butter and sugar until light in color and fluffy.

Add the vegetable oil, coconut milk, egg yolks, coconut and vanilla extract and mix until just combined. Scrape the sides and the bottom of the bowl and mix for an additional few second to make sure all ingredients are combined.

In a separate bowl, combine the egg whites and the cream of tarter and mix with a hand mixer on high speed until stiff peaks form. When you take your beaters out, the meringue should stand straight up and not fall over on itself.

Carefully fold in the meringue to the cake batter in thirds being careful not to deflate the meringue. Continue with all meringue until fully combined and smooth.

Divide the batter evenly between the three prepared pans and gently tap on the counter to remove any air bubbles.

Bake for 20-23 minutes or until a toothpick inserted in the center of the cake comes out clean.

Remove form the oven and allow to cool in the pans for 10 minutes then invert onto a wire rack to cool completely.
Frosting:
In the bowl of a stand mixer equipped with a paddle attachment, cream the butter and cream cheese together until fluffy. Add the coconut extract and mix until combined.

Add half of the powdered sugar and mix until there are no dry spots remaining. Scrape the sides and bottom of the bowl.

Add the remaining powdered sugar and mix until just combined. Increase speed to high for 2-3 minutes until nice and fluffy.
Assembly:
Use a large, serrated knife to remove the domes form the top of the cakes if necessary.

Place the first layer of cake face down on a cake plate or stand and top with about ¾ cup frosting and smooth evenly. Continue with all cake layers.

Once you have placed on the last layer, cover the entire outside of the cake with a thick layer of frosting. Place the cake stand in the center of a large baking sheet and use a clean hand to gently tap the coconut shreds into the frosting all along the outside of the cake.

Refrigerate until ready to serve.
Did you make this recipe?
Make sure to follow on Pinterest for more recipes!