This Instant Pot Strawberry Crunch Cheesecake has a creamy cheesecake layer, baked on a Nilla Wafer crust, and covered with strawberry shortcake crumbles!
If you love the Good Humor Ice cream bars, you are sure to adore this cheesecake!
I seem to have a theme going this week (surprisingly unintentional)… Monday I shared my favorite Instant Pot Dreamsicle Cheesecake with you guys and today I am sharing another childhood favorite flavor that we all know and love!
These two flavors are what I think of when I think of summer! It is pretty much ingrained in my head at this point.
STRAWBERRY SHORTCAKE CRUMBLES
When I was planning this cheesecake, I wanted to make the crumbles as easy as possible. I didn't want to have to worry about baking, or requiring any fancy equipment, and I think I managed to do that with this recipe!
We are ALL ABOUT easy over here.
All I did was pulse some golden Oreo's in a food processor until I got a coarse crumb. I removed half of the crumbs and added in strawberry Jell-O powder and a little whipped cream and mixed all of that together until combined.
Add the strawberry crumbs back in the food processor and pulse a couple more times until incorporated and ta-da! That's it! Easy peasy.
TIPS TO MAKE A PERFECT INSTANT POT STRAWBERRY CRUNCH CHEESECAKE
1. Make sure your cream cheese is at room temperature before beginning. This is an important step to make sure your cheesecake is a good consistency. Also, cream your cream cheese for 5-6 minutes before adding any ingredients to it. This keeps you from overmixing.
2.You want to make sure that you wrap the entire springform pan in aluminum foil. This will help keep the moisture out of the springform and away from the crust.
3. Bake your crust before you add in the filling. This will help get that crunch in your crust. If you prefer a softer crust, skip this part.
4. DO NOT OVER MIX THE EGGS. When you add in the eggs mix JUST until the yolk disappears into the batter and stop.
FREQUENTLY ASKED QUESTIONS
Q: CAN I MAKE THIS CHEESECAKE IN A 6 INCH SPRINGFORM?
A: Yes, you can make this cheesecake in a 6 inch pan. Follow the directions as written, but add about 10 minutes on to the cook time.
If you need a springform pan, I HIGHLY recommend THIS ONE. It is the perfect size and works so well with the Instant Pot.
Q: WHAT SIZE INSTANT POT DO I NEED?
A: I use a 6 quart Instant Pot Duo– this one works perfect for me and my family of four
Q: MY CHEESECAKE LOOKS UNDERCOOKED! WHAT DID I DO WRONG?
A: This is perfectly normal. When you remove the cheesecake from the Instant Pot it will look a little undercooked. Let it set up overnight in the fridge and it will be perfect!
Do not cook any longer or you will over cook it, and it will be dry and crumbly when you cut into it the next day.
PRO TIP: To get the perfect slice, take a large butcher knife, and run it under hot water for 2-3 minutes to warm it up. You can also use a kitchen torch but be careful.
Remove any water from the knife and make your first cut into the cheesecake. Run the knife under water to clean, wipe off the excess water, and make your second cut.
EQUIPMENT USED
IF YOU LOVED THIS INSTANT POT STRAWBERRY CRUNCH CHEESECAKE AS MUCH AS I DO, MAKE SURE YOU SHARE IT WITH YOUR FRIENDS ON FACEBOOK AND PINTEREST SO THEY CAN MAKE IT TOO!
MORE INSTANT POT CHEESECAKE RECIPES!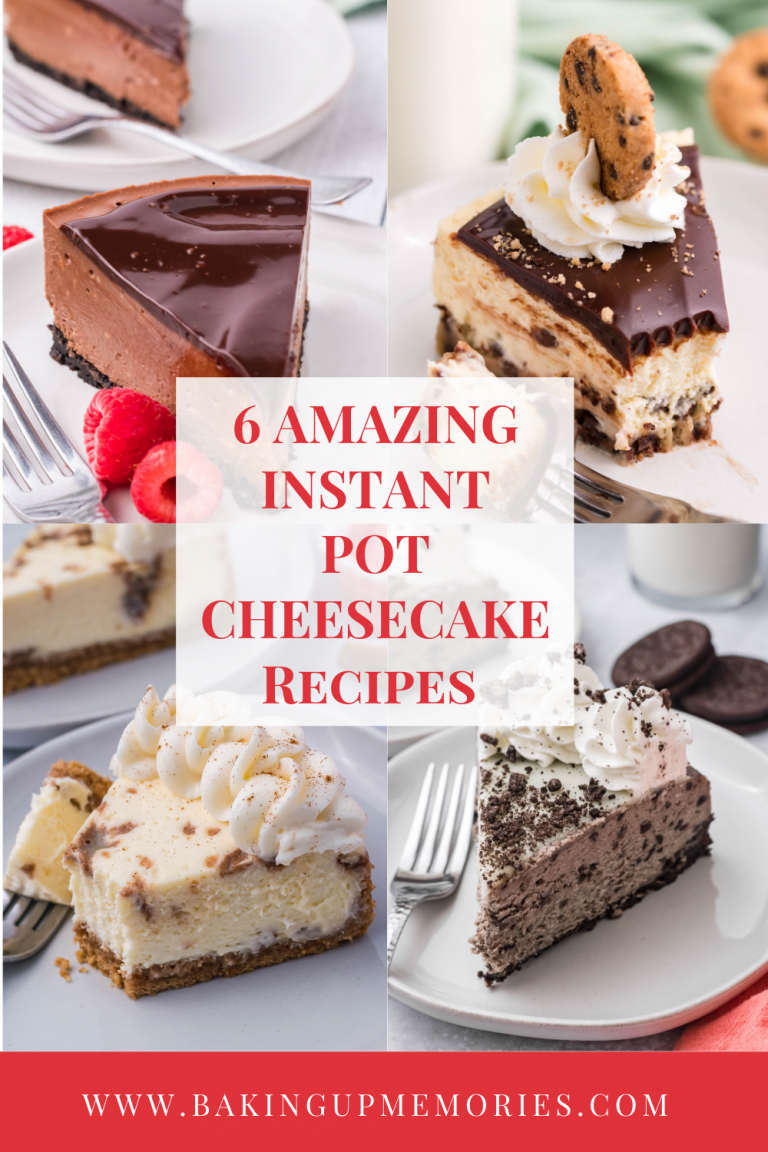 Instant Pot Strawberry Crunch Cheesecake
This Instant Pot Strawberry Crunch Cheesecake has a creamy cheesecake layer, baked on a Nilla Wafer crust, and covered with strawberry shortcake crumbles!
Ingredients
Crust
1 1/2 cups Nilla Wafer crumbs
3 Tablespoons butter melted
Filling
3 8 oz. packages cream cheese room temperature- I recommend using a name brand such as Philadelphia
1/2 cup Dixie Crystals granulated sugar
2 Tablespoons flour
1 teaspoon vanilla extract
1/2 cup heavy whipping cream
2 eggs
Topping:
10 golden Oreo cookies
2 Tablespoons strawberry Jell-o mix
3-4 Tablespoons whipped cream
1/4 cup strawberry topping or preserves
Instructions
Crust
Preheat your oven to 350 degrees/F.

Add Nilla Wafers to a food processor until you get about 1 1/2 cups of crumbs. Add in the melted butter and pulse until combined.

Pour into the bottom of a greased 7″ springform pan and use your hand or the back of a spoon to press and form a crust bringing the crumbs up about 1 inch on the sides.

Bake the crust for 10 minutes or until golden. Remove and cool on a wire rack.
Filling
In the bowl of a stand mixer (or use a hand mixer) with a paddle attachment, cream the cream cheese for 3-4 minutes or until completely smooth and there are no lumps.

Slowly pour in the sugar and flour and mix until just combined.

Add vanilla and heavy cream. Mix on low speed until combined. Slowly increase the speed to high for about 1 minute,

Scrape the sides and bottom of the bowl and make sure there are no lumps. Give one final mix before adding the eggs.

Add the eggs one at a time and mix just until the yolk disappears into the batter.

Pour the batter into the prepared crust and gently tap the bottom of the pan on the counter to release any air bubbles.

Cover the pan completely with aluminum foil. Add one cup of water into the inner pot of your Instant Pot and add in the trivet,

Place the cheesecake on top of the trivet and set your pot to high pressure for 40 minutes and allow to naturally release.

Once you can open the pot, remove the cheesecake and allow to cool to room temperature on a wire rack.

Place the cheesecake in the refrigerator to set for at least 6 hours but overnight is recommended.
Topping:
Add the Oreo cookies into the food processor and pulse 5-6 times until you get a coarse crumb. Remove half of the crumbs and place in a small bowl.

Add the Jell-o mix and whipped cream into the bowl and use a fork to combine.

Place the strawberry crumbs back in the food processor and pulse 2-3 times until well incorporated.

Remove the cheesecake from the refrigerator and spread the strawberry topping in an even layer on top of the cheesecake.

Sprinkle the crumbles over top the strawberry topping.

Serve and enjoy!
Notes
It is not recommended to refrigerate this cheesecake as the crumbles tend to become soggy. However, if you must store the cheesecake, make sure it is an airtight container to prevent the crumbles from absorbing any moisture.
Keep any left overs in an airtight container in the refrigerator for up to three days.
Equipment
Did you make this recipe?
Make sure to follow on Pinterest for more recipes!