Whip up this decadent strawberry lemon blondies recipe. You will have a strawberry batter and lemon batter that gets swirled together and then baked into these incredible bars. This strawberry lemon dessert is a sliceable bar that is perfect for after-dinner, bake sales, or take to your summer cookout.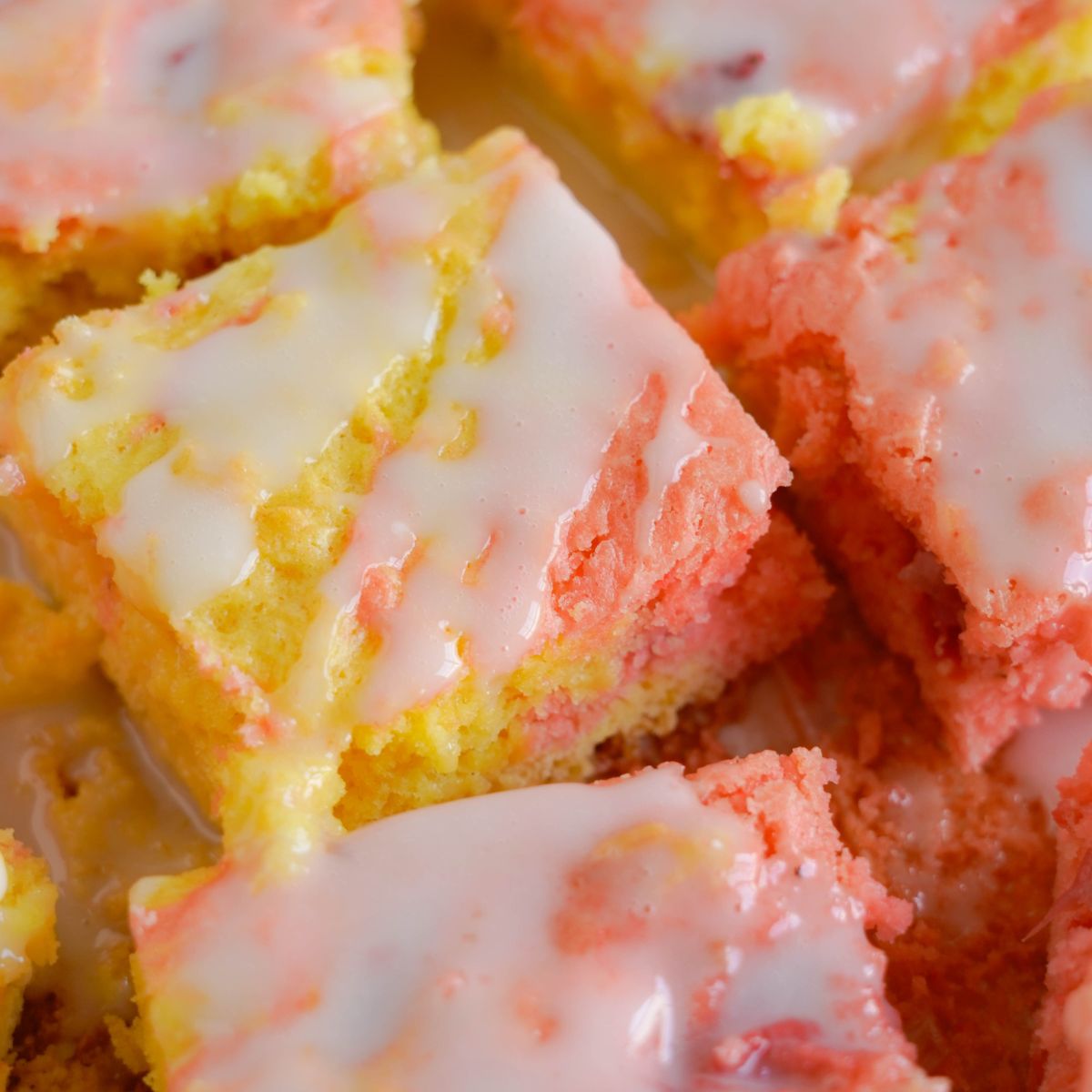 Not only are these lemon strawberry blondies incredible, but they are bright and colorful. I love that you use box cake mix as the base, so the prep work is easy.
Consider these strawberry cheesecake cookies, they are so popular. Or try this peach cobbler that uses cake mix as the crust.
Reasons You Will Love This Recipe
Starts with a boxed cake mix as the base for the muffins.
Easy step-by-step ingredients.
Simple flavors pair up and create a fantastic fruity twist.
Light and fluffy bars.
Sliceable and great to serve up a crowd.
Ingredients Needed
Cake Mix – You will want a box of strawberry cake mix and a box of lemon cake mix.
Lemon – Fresh lemon juice and zest will be needed.
Strawberries – Fresh strawberries are diced into small pieces.
Eggs – Room temperature eggs are best for incorporating into the batter.
Powdered Sugar – This is the base for the glaze you will drizzle on top.
Variations to Recipe
Cherry Chip cake instead of strawberry.
Swap lemon cake mix with vanilla, chocolate, etc.
Add fresh strawberries that are finely diced into the powdered sugar glaze.
Dust with powdered sugar instead of a glaze topping.
Mix in white chocolate chips for added sweetness.
Expert Tips
Feel free to cut the edges around the bars so you get clean squares that are evenly shaped.
Make sure the strawberry lemon brownies are fully cooled before you add the glaze on top. Or it will melt into the bars.
The batter is thick, so know it takes a bit to create that swirl effect.
Don't overmix the batter or it can make your bars dense.
Lining the pan with parchment paper is a great way to easily remove the bars so you can slice.
Ensure you preheat the oven before you bake the bars in the oven.
Storing
These cake mix strawberry lemon blondies need to be stored in a sealed container and stored in the fridge. These bars will last 3-4 days, or depending on how moist they are they can go up to 5 days at times. Due to the fresh strawberries refrigeration is needed.
Go ahead and freeze any of the bars you don't plan to eat right away. Just place it in a freezer bag or container and freeze for 2-3 months. Then when ready to eat thaw on the counter for 30 minutes to an hour. Or refrigerate and thaw slowly overnight.
Can I use frozen strawberries instead of fresh ones?
Yes, you can use frozen strawberries, just thaw them. Once thawed drain off excess liquid and then dice up into small pieces.
Can I add nuts or other mix-ins to the blondies?
Feel free to add in chocolate chips, almonds, cashews, walnuts, or other items. Even coconut flakes would be a delicious elevated flavor.
What size pan does this dessert need?
You will make a 9×13 casserole dish size. If you decide to double the recipe just bake in two separate pans.
Can I make these blondies gluten-free?
Feel free to use gluten-free cake mixes in exchange for a classic cake mix. You are more than welcome to make them with gluten-free mixes if you need.
There's nothing dry or crumbly here!, they will melt right in your mouth like an excellent blondie should.
More Desserts
Strawberry Lemon Blondies
Strawberry Lemon Blondies are a delicious strawberry and lemon swirled blondie recipe that is bursting with sweet flavor. Whip these up with cake mix as the base.
Ingredients
Strawberry Brownies Ingredients:
1 15.25 oz box of strawberry cake mix I used Betty Crocker
1/3 cup lemon juice
2 large eggs
1/2 cup fresh strawberries chopped
Lemon Brownies Ingredients:
1 15.25 oz box of lemon cake mix I used Betty Crocker
1/3 cup lemon juice
2 large eggs
Glaze Ingredients:
2 teaspoons lemon zest
1 1/2 cups powdered sugar
3 tablespoon lemon juice add a few extra drops if needed for desired consistency
Instructions
Preheat oven to 350 degrees. Line your 9×13 baking dish with parchment paper. Set it to the side.

In one bowl you will add your lemon cake, lemon juice, egg, and zest. Mix well to combine. Then set it to the side.

In a new bowl add your strawberry cake mix, lemon juice, and eggs. Mix well. Then fold in the strawberries.

Spoon the lemon and strawberry batter into different sections in the pan. You want to create dimension

Then you will use a knife and swirl the two flavors together.

Bake for 25 minutes or until the blondies are fully cooked. Use a toothpick to stick in center and make sure that there is no wet batter left.

Remove the bars and let them cool completely. Once cooled slice into squares.

In a small bowl mix your glaze ingreidents. Once it is fully mixed drizzle it over the strawberry lemon brownies.
Did you make this recipe?
Make sure to follow on Pinterest for more recipes!