This Orange Creamsicle Cheesecake is a creamy orange flavored dessert inspired by your favorite childhood treat! This cheesecake starts with a Nila Wafer crust, and is topped with a fluffy orange and vanilla cheesecake filling, all topped with whipped cream and fresh oranges! This cheesecake is the ultimate dessert for any occasion!
CREAMSICLE CHEESECAKE INGREDIENTS
Crust:
Nilla Wafer Crumbs– You'll prepare your homemade crust using these crumbs as the base.
Butter– Melt and add mix into the crumbs to form the crust.
Filling:
Cream Cheese– 4 packs (yes, 4 packs, we like a thick cheesecake around here.) Allow your cream cheese to come to room temperature before starting this recipe!
Granulated sugar– for added sweetness
All-purpose flour– This is the thickening agent for this recipe.
Pure vanilla extract– pure vanilla is best, but if you only have imitation on hand, that will work just fine!
Heavy whipping cream– cold
Orange cream liqueur– This ingredient takes this cheesecake to a new level! The orange cream flavor is amazing. However, if you want to omit this ingredient, just replace with an equal amount of heavy whipping cream, and add in 2 teaspoons orange extract.
Eggs
Topping:
Whipped cream– homemade or store bought
Fresh orange slices
BEST ORANGE CREAMSICLE CHEESECAKE VARIATIONS
If you only have graham crackers on hand, you can replace the Nilla Wafers for graham crackers.
Get creative with the toppings. You can use sprinkles, white chocolate ganache, or maraschino cherries!
Instead of adding the orange cream alcohol, add in orange extract instead to get that orange flavor!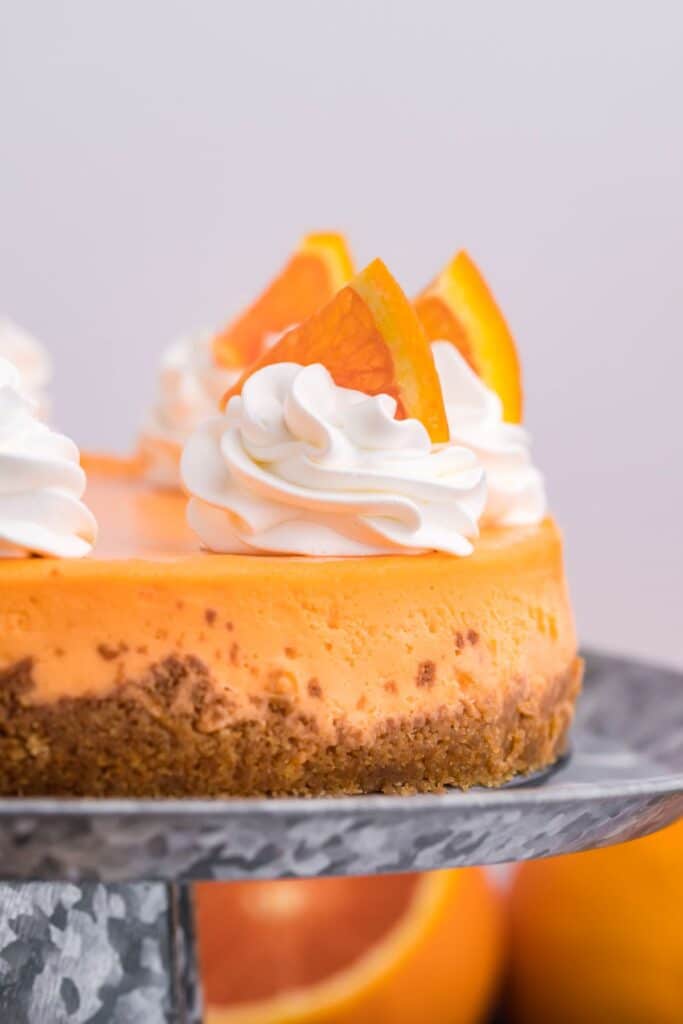 WHY YOU WILL LOVE THIS RECIPE!
Easy– This recipe doesn't use a water bath, which makes it a super easy cheesecake recipe!
Creamy– This Orange Creamsicle Cheesecake has a super creamy, fluffy, orange vanilla filling that you can't have just one piece of!
Unique– This recipe uses alcohol which creates even more of a fluffy filling. However, the alcohol bakes off so you will not be consuming any. This makes it a super unique dessert for any occasion!
TIPS AND FAQ'S
Make sure your cream cheese is room temperature BEFORE you begin and cream it for at least 4 minutes. All the other ingredients I find doesn't matter that much. I take them straight from the fridge.
Make sure you refrigerate your cheesecake overnight to allow it to fully set.
WHAT IF I DON'T WANT TO USE ALCOHOL? You do not have to use alcohol in this recipe to get an amazing Orange Creamsicle Cheesecake! All you have to do is replace the amount of alcohol in the recipe with heavy whipping cream, and add in about 2 teaspoons orange extract and a little orange zest if you are feeling froggy.
WHY DOES MY CHEESECAKE LOOK UNDERCOOKED??? When you remove the cheesecake from the oven it should jiggle just slightly in the middle and be set on the sides. The middle will set completely in the fridge and you will have a perfect creamy cheesecake the next day!
MORE RECIPES YOU WILL LOVE!
ORANGE CREAMSICLE CHEESECAKE
This Orange Creamsicle Cheesecake starts with a Nila Wafer crust, and is topped with a fluffy orange and vanilla cheesecake filling, all topped with whipped cream and fresh oranges! This cheesecake is the ultimate dessert for any occasion!
Ingredients
Crust
2 cups Nilla wafer crumbs
4 Tablespoons butter melted
Cheesecake
4 8 oz packages cream cheese softened
3/4 cup sugar
3 Tablespoons flour
1 teaspoon vanilla extract
½ cup heavy whipping cream
¼ cup orange cream liqueur We used Tippy Cow Orange Cream
3 eggs
Topping
Whipped cream
Orange slices
Instructions
Crust:
Preheat your oven to 350 degrees F. and prepare a 9-inch springform pan with non-stick spray and set aside.

Add Nilla wafers into a food processor and pulse until you get about 2 cups of crumbs. Add melted butter and pulse until combined. Pour into he prepared springform and use the back of a spoon to pack down to form the crust. Take the crumbs up the sides of the pan about 1 inch.

Bake at 350 for 10 minutes.
Cheesecake
In the bowl of a stand mixer equipped with a paddle attachment, cream the cream cheese for 3-4 minutes or until nice and smooth and there are no lumps. Scrape the sides and bottom of the bowl.

Add the sugar and flour and mix on high for an additional 1-2 minutes.

Slowly, pour in the heavy whipping cream and vanilla and mix on low speed until combined then slowly increase the speed to high and mix for about 1 minute.

Add in the orange cream liqueur and mix until just combined.

Add the eggs in last, one at a time, mixing just until the yolk disappears into the batter.

Carefully pour the cheesecake batter in the prepared pan and place in the oven for 15 minutes at 350 degrees. After 15 minutes, without opening the oven door, reduce the heat to 200 degrees and bake for an additional 50-55 minutes or until the center slightly jiggles (it should resemble Jell-o, not look wavy like water)

Once the center is set, turn the oven off and slightly crack the oven door for about 15-20 minutes to allow the cheesecake to cool down slowly. (This is optional but will help avoid cracks in your cheesecake)

Once the 15 minutes are up, remove the cheesecake from the oven and allow to cool completely on a wire rack. Then place in the refrigerator overnight until completely set.

Once the cheesecake is set, Run a butterknife under hot water for a couple minutes. Wipe off any access water and take the knife around the edge of the springform pan to remove the cheesecake.

Top with whipped cream and orange slices and serve.

Keep any left overs in an airtight container in the refrigerator for up to three days.
Did you make this recipe?
Make sure to follow on Pinterest for more recipes!